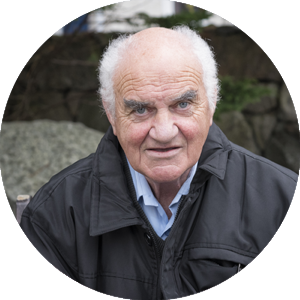 An tAthair Éamonn
Actor: Peadar Ó Treasaigh
Fr. Eamonn finds it easy to make connections with others, and has a talent for warm, sensitive language, speaking in human terms, rather than with pure logic and fact. He is an instantly likable person who connects with people from all walks of life.
He was strongly influenced by a Christian Brother teacher, who prompted the first stirrings of a vocation in him. Fr. Eamonn works the salient traits of his personality to get what he wants. He may appear absent minded, when he has deliberately not done something, or helpless, when wanting something done for him.
He struggles with the Catholic Church's historic teaching on sex and marriage; he has become disillusioned with the Institutional church, but believes the message the church offers is important.
He is a fanatical sports enthusiast. Gaelic football is his favourite recreation. He is also an avid Newcastle supporter and is known to rush Saturday night mass to watch the premier league.