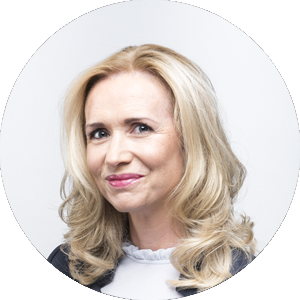 Caitríona Ní Loideáin
Actor: Máire Eilís Ní Fhlatharta
Family & Relationships: Maeve Ní Loideáin (daughter), Vince de Búrca, Jennifer Uí Thuairisc (first cousin), Fiach Ó Tuairisc (first cousin once removed).
Occupation :  Owner of Loinnir, the local beauty salon, Manager of Raidió Pobail (Sraith 22)
Caitríona is a fashionista, is shameless, shrewd and ambitious but has a self-centred streak too. Because of this, she can often be impatient, sharp and cold. She responds well to gifts and praise. Caitríona likes to be the centre of attention wherever she goes and can get heated at times.
Caitríona is a lot easier to deal with when she's in love but was often unlucky in love.
She was a man-eater until she met Vince but even her marriage vows couldn't keep her faithful. She ha an affair in season 11 with her stepson Donncha. She had a relationship with Breandán and they had a child together, Maeve. This relationship came to an end when Caitríona found out that Breandán was a paedophile.