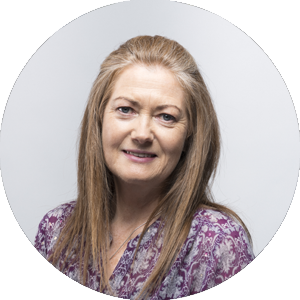 Frances Uí Dhireáin
Aisteoir:  Áine Máire Ní Óráin
Family & Relationships: Tadhg Ó Direáin (husband), Áine Ní Dhireáin (daughter), Minnie Uí Bhrádaigh (mother), George Ó Brádaigh (father).
Occupation: Landlady in Tigh Thaidhg and works in the Ionad Pobail.
Energetic and effusive, Frances has an uncanny ability to find common ground with people, regardless of how like or unlike her they are. Owing to this trait, a lot of people think they know her really well, but in reality she's a very private person and she's slow to let her guard down. Though she loves to be surrounded by people, she is self-reliant and years of travelling have made her very independent and strong willed.
Frances is honest and hard-working. She approaches things head on and sets about doing things without any reluctance or delay. She is determined – if she wants something, she will get it. She's well able for the customers in Tigh Thaidhg – her father had a pub in Dublin and that's where she worked when she was young. She also works in the Community Centre and she is very generous with her time when the needs of the community demand it.
Frances and Tadhg have been married since Season 14. They have a daughter, whose name is Áine. For Frances, there was never anything more important than her family. She survived the horror of everything with Andy – Tadhg and Vince disposing of his body in the middle of the night – thinking of her little girl being back at home, safe and sound, while Andy can never again get to her. She possesses unparalleled strength. In hard times, she is a woman to be reckoned with.
Frances was always loyal to Tadhg. Her heart was broken when he left her in Season 22, to be with his childhood sweetheart, Maggie. Her young daughter, Áine, is the only light in her life at this present time.