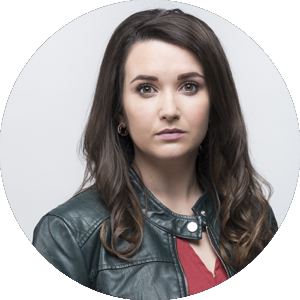 Katy Daly
Actor: Brídín Ní Mhaoldomhnaigh
Family & Relationships: Jay O'Connor (son), Cuán O' Connor (stepson), John Joe Daly (father), Noreen Mhic Aodha (mother), Deirdre Daly (sister), Conall Daly (brother), Jason O'Connor (husband).
Katy is the youngest of John Joe Daly's children. She is petulant and attacking; she knows how to wrap people around her little finger. Her father was often absent during her childhood and so she learned to look out for herself. She wears a hard expression to mask her fragility and protect against hurt. She has a lot of confidence and strong opionions about men – these due to her growing up without her father around.
When Katy first came to Ros na Rún herself and John Joe were embroiled in a constant tug of war, but as they worked their way through life's hardships her disposition towards her father changed and she would find herself running to him in times of need. Katy is still as headstrong and fiery-tempered as always and she has drawn her fair share of trouble on herself in the last couple of years. If things weren't bad enough between herself and her sister Dee, she didn't do anything to improve them when she slept with her fiancé Mack. Every relationship Katy has has been put under pressure since that day on and Jason hasn't managed to forgive her sin either.
Katy lays bare her feelings on all this to her loyal dad. More often than not it's this sensitive side of her that we see nowadays.