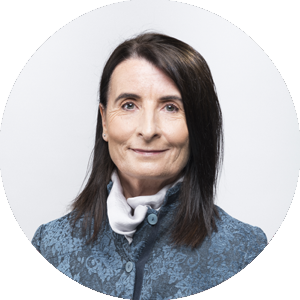 Maggie Ní Chadhain
Aisteoir: Mary Ryan
Beathaisnéis: 
Maggie can come across as retiring and could be dismissed as a 'nice old lady' but don't let that fool you. She's fiercely independent and emotionally self-sufficient; life has forced her to be.  Maggie suffered major trauma in her teenage years; on the night she was due to run away with her love, a young Tadhg Ó Direáin, she was intercepted by her father, who prevented her from meeting Tadhg at the Sean Chéibh. Within days, her controlling father had bought her passage to America.
Maggie wrote to Tadhg, to tell him that her father had prevented her from meeting him that fateful night but due to her father's intervention, those letters were never delivered to the O Direáin household.
A few years after leaving, Maggie heard that Tadhg had married Angela, and she assumed that he'd forgotten her or gotten over her, in a way she knew she never could.
Maggie was the only daughter of the local headmaster, a distant and emotionless man who found fault in all Maggie did. As a blow in to the village from Limerick, the schoolmaster was feared by some and respected by others, but he was never liked, nor did he ever make any attempt to fit in. He sent her to America to live with his authoritarian sister, when he discovered she was seeing the young Tadhg O'Direáin.
Maggie has come home becuase of the death of her father. Now she is changing her dreary childhood house into the home it never was.  She can finally make her home in Ireland now the old tyrant is dead.
Initially at loggerheads with Tadhg, they soon realise that neither rejected the other all those years ago, they were kept apart by her father.
Clann & Caidreamh: