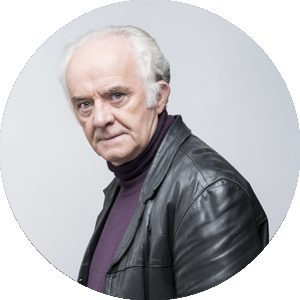 Tadhg Ó Direáin
Actor: Macdara Ó Fátharta
Family & Relationships: Frances Uí Dhireáin (wife), Áine Ní Dhireáin (daughter), Jason O'Connor (son), Cuán O'Connor (grandson), Jay O'Connor (grandson), Eoin Farren (son), Maggie Ní Chadhain (former lover and half-sister, deceased).
Occupation: Owner of Tigh Thaidhg
As the local publican, there is little that happens in Ros na Rún that Tadhg doesn't know about. He is glib and often sarcastic, and takes pleasure in baiting people. His sharp wit means that his comments usually cut far too close to the bone. He never worries that his cruel humour will drive his customers away; after all, he owns the only pub in the village.
Tadhg is the villain in Ros na Rún. He has worked hard to build up his business empire and doesn't take kindly to anyone who interferes in his affairs. He is determined to maintain his position and power by any means – up to and including murder.
Tadhg's father was a strict diciplinarian and Tadhg is a tough unyielding man because of this. He has been deceived too many times by his wife Angela, who gave birth to two children by two different men during their marriage. As a result, he finds it very difficult to trust anyone, never mind have a loving relationship.
He married Frances and they had one daughter, Áine. He is very fond of little Áine and he likes that she has as much spirit and steadfastness as he does. Things in Tadhg's life took a fateful turn when his childhood sweetheart, Maggie, returned to Ros na Rún for her father's funeral. He was really stirred at seeing her again, after many long years living without her. Little by little he learnt that it was her father that kept them from one another and it wasn't the case that her love for him was lost. He decided to leave Frances, even to give her the pub, he cared for nothing else but to be with his heart's beloved – his Maggie.
But alas things are not always as they seem and it never seems to work out for Tadhg Ó Direáin.