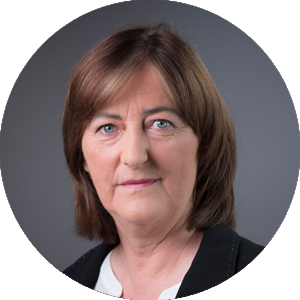 Ceannfort Uí Shé
Actor: Bríd Ní Chumhaill
Family & Relationships: Niamh Ní Shé (daughter), Caoilfhinn Ní Shé (daughter), Eric Ó Sé (ex-husband).
Occupation: Superintendent
O'Shea is very familiar with the triumphs and struggles that women in high positions face, and the need to prove herself as an equal to men. She is strong, competitive, ambitious and professional to a fault in her job, but struggles in finding a balance between family and work. She learnt over the years that acting like a cop is not a great way to treat your daughter but sometimes the firm hand of the Garda is just what her daughter needs. Niamh has tested her patience on more than one occasion.
O'Shea believes in the law – she tries to follow it by the book. But when the law fails to deliver justice, she feels it keenly. She has been known to turn a blind eye when the system has failed a victim, as she did when locals beat Ciarán for raping Róise.
As a figure of authority and law enforcement in the community, O'Shea needs to keep a professional distance from locals. Even when she's off duty, she is still a cop. While she accepts this as part of her job, it can be isolating and sometimes she feels like a stranger in Ros na Run. It's a good thing then that her college friend, Laoise, has moved into the area. The two of them are very good friends.
It was tough on Imelda when Laoise started going out with her ex-husband, Eric, especially with them sneaking around behind her back. As angry as she would have been to see them together, she was even more hurt that they couldn't talk to her about it honestly. In the end, she spoke out plainly with Laoise and they reached an understanding.
In spite of her status as the local cop, she can let her hair down every once in a while. She enjoys a couple of drinks in Tigh Thaidhg and likes the 'craic' and the company of John Joe and the likes too.