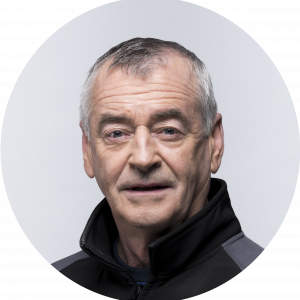 John Joe Daly
Actor: Niall Mac Eachmharcaigh
Family & Relationships: Katy Daly (daughter), Jay O'Connor (grandson), Deirdre Daly (daughter), Conall Daly (son), Noreen Mhic Aodha (ex-wife).
Occupation: Mechanic
John Joe is a Jack-of-all-trades, doing everything from undertaker's work to garage work and now he has a quarry too. John Joe is a good-humoured man, he's pretty fearless and very wily. He is ever the opportunist and has no qualms about bending the rules to line his own pockets. His marriage with Noreen failed precisely because of this crookedness – she could no longer turn a blind eye to her husband's bad behaviour. John Joe left his wife and children in Donegal and he's been living in Ros na Rún ever since.
John Joe has been seeing a lot more of his family in the last few years now that both Katy and Dee live in Ros na Rún. Noreen comes to visit now and again with her new man, Ferdia, which results in a house-full of them all fighting with one another! He has some good friends in the village and another Donegaller, Colm, amongst them. He used to be very friendly with Mack until he went and cheated on Dee with John Joe's other daughter Katy. Suffice to say that their friendship hasn't been the same since then.
He likes the craic and the company in Tigh Thaidhg. He plays cards and enjoys putting on a few bets also. Tadhg and himself are often taunting one another; things were always quite prickly between them when they were doing undertaker work together, that doesn't see any improvement with them both involved in the business of the quarry.
A rogue and a good friend – he can have scant regard for the law but he is beyond loyal to his friends and family and he would do anything to protect them.