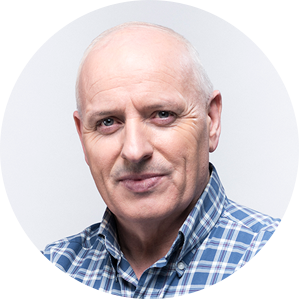 Micheál Seoige
Actor: Josie Ó Cualáin
Family & Relationships: Réailtín Seoige (daughter), Pauline Ní Bheirne (partner, deceased), Saoirse Seoige (daughter, deceased), Angela Uí Dhireáin (former partner), Berni Ní Neachtain (ex-wife).
Occupation: Owner of Tigh Kheane and the petrol pumps.
Micheál is loyal and caring and willing to do anything for his friends. He is good-natured, kind and always generous. He's a businessman and owns Keanes, the hardware store in Ros na Rún.
He's had his share of heartache over the years and is often unlucky in love. His relationship with Angela Uí Dhireáin ended when she went back to her husband, Tadhg, and the daughter they had together died in her cot. It is because of this adulterous relationship that Tadhg hates Micheál to this very day.
Micheál was very much in love with Pauline, who died of cancer in Season 9, and they had a daughter together, Réailtín. Réailtín is the light of his life. She is a teenager now and wants more freedom in her life. Although he'd like to trust her, he worries about her a lot and it's hard for him to let her have her way.
In Season 22 when Réailtín comes home from the disco blind drunk Micheál is fit to be tied. But, with a little help from Laoise, he sees that it's bettre he support her and be understanding. At the end of the day he'd prefer his daughter to be able to come to him with her problems rather than for her to be terrified of him.
Laoise is a great friend of his. They both enjoy working outdoors and they got on famously while sharing house with Réailtín as well.