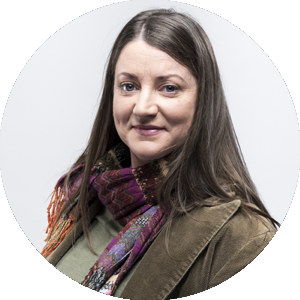 Vanessa Uí Chonghaile
Actor: Sorcha Fox
Family & Relationships: Fia (daughter), Niall (husband), Máire (mother-in-law), Peadar (father-in-law) Liam (husband, deceased), Liam Óg Ó Conghaile (grandson).
Vanessa from Dublin was extremely wild and spontaneous in her youth. A born rebel, expect the unexpected was how Vanessa was seen by others. She has a good heart, is kind and is loyal to her friends. She is independent, but when in love she tends to let her heart rule her head. Vanessa is also a very proud person, and can be stubborn when she thinks she is right.
Vanessa and Berni are friends, have not always had the easiest relationship, particularly as both of them loved the same man (Liam), but they always overcome the differences between them.
Vanessa gave birth to a daughter, Fia. This had a huge effect on Vanessa, and in many ways it tamed the wild woman. Vanessa discovered a softer, more maternal and nurturing side to herself.
She was devastated by the loss of her husband Liam, who died tragically after injuries sustained in a house fire. Through dealing with her grief, Vanessa has found an inner strength that even she did not know that she possessed. Her daughter Fia gave her courage to carry on. She now lives in Australia.
She returned to Ros na Rún in Season 22 to talk Fia into coming back to Australia with her. Things didn't go to plan and she learnt that Niall (her husband) was the father of Fia's son.