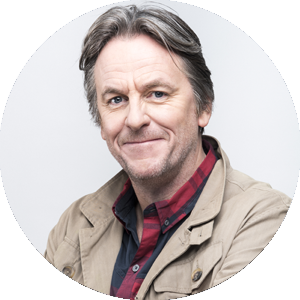 Vince de Búrca
Actor: Paul McCloskey
Family & Relationships: Caitríona Ní Loideáin (partner), Donncha de Búrca (son, deceased), Róise de Búrca (daughter), Ríona de Búrca (daughter), Sophie de Búrca, Nancy (sister), Gerry (brother-in-law, deceased), Maitiú (grandson, deceased).
Occupation: Shop owner/ Photographer.
Vince is measured with a strong sense of integrity and fairness, who can be relied on to keep an air of confidence. He tends to have dating relationships full of peril, but when he does succeed in love, he finds a monogamous relationship difficult to sustain. Despite the curve balls thrown at him, he has always come through considering the ups and downs he has had with his love life and children.
Vince was once a pilot and also has a great passion for music.
Himself and Caitríona find it difficult to be loyal to each other since they started dating each other.
Vince accompanied Tadhg in the murder of Andy and now has to carry that burden with him for the rest of his life.